Rail Trail in Delaware County, Pennsylvania
About the Chester Creek Rail Trail
The Chester Creek Rail Trail is a rail-trail in central Delaware County, Pennsylvania, Southeastern Pennsylvania.  The trail will follow Chester Creek along the Civil War-era Chester Creek Branch line of the Pennsylvania Railroad.
When complete, the trail will run from the former SEPTA Wawa R3 station to Upland, PA. The middle section of the trail, consisting of 2.8 miles through Middletown and Aston townships, was the first to be completed in late 2016.  An official ribbon cutting ceremony was held on April 8, 2017 for Phase I.  Engineering design work  for the next phase, which will bring the trail further into Aston township, began in early 2019.
Phase I construction started in May 2015, and is now complete.  For the latest updates, please visit our Facebook page: https://www.facebook.com/ChesterCreekTrail
The original feasibility study, from 2002: fnl_rpt
The first known human inhabitants of the area where the Chester Creek Rail Trail is located today were the Lenni-Lenape people, who were pushed out of the area by European settlers.  The region was granted to William Penn in 1681 by King Charles II, and townships were organized in the following years. Middletown Township was established in 1686 or 1687. The town of Northley was established in what is now Aston Township in 1682 and Aston was incorporated as a township in 1688.  Delaware County was separated from Chester County and became a county in its own right in 1789. Chester, a bustling center of commerce on the Delaware River, was the county seat until 1850, when a new and more centrally-located town called Media was built to replace it.
The Chester Creek Branch of the Pennsylvania Railroad was constructed in the late 1860s, to provide rail service through south and central Delaware County.   Service from Philadelphia connected at the Chester Creek Branch terminus in Chester, PA, and connected many communities, including Aston and Lenni, before connecting to a line going to the town of Westchester.  The Chester Creek Branch rail line parallelled Chester Creek, and served many mills, factories, and warehouses as a vital economic link as well as providing passenger service. Population centers grew near rail depots in this vibrant and economically prosperous area.
As modes of transportation diversified, patterns of development changed. With the advancement of the automobile and the interstate highway system, rail service fell out of demand, and many Chester Creek businesses relocated. After the Chester Creek Branch sustained severe flood damage in 1972 during Hurricane Agnes, the line was permanently taken out of service and eventually deeded to SEPTA, the regional transit authority.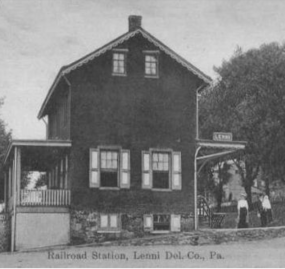 The rail corridor became overgrown and was further damaged over time, but some of the bridges (such as the one over 452) remained structurally intact, and the tracks and the ties were never removed. A number of old mill buildings in the area have been repurposed and are still in existence today, and in a few spots along the trail the remnants of loading docks used for rail cars can still be seen.
In the early 1990's local resident Mike Fusco and others saw the potential for the line to be converted to a rail-trail.  The Friends of the Chester Creek Branch was formed in 1994 under the auspices of the Chester-Ridley-Crum Watersheds Association and became incorporated as an independent non-profit organization in 1997.
After years of convincing local officials, raising private donations, and winning a seed grant from the William Penn Foundation, a Phase 1 Feasibility Study for the trail was completed in 2002, and SEPTA officially leased the line to Delaware County and FOCCB in 2005.  An engineering study began in 2009. Final project approvals for Phase I were completed in November 2014 and funding was secured from state, county, and other local sources. Construction began in mid-2015 and Phase I, consisting of 2.8 miles of paved trail, was completed in December 2016. An official ribbon-cutting ceremony was held in 2017.
The trail was an immediate success, with use far surpassing surpassing expectations even before the official ribbon-cutting.  A survey of trail users conducted on President's Day weekend in 2018 (on an unseasonably warm day) counted 388 trail users within the space of an hour and estimated that well over 1000 visitors came to the trail that day.  The lack of parking has been and continues to be the most commonly expressed complaint about the trail, although FOCCB is working with local officials to resolve this problem.
In 2017, Delaware County approached FOCCB and requested that the lease from SEPTA to FOCCB be formally rescinded so that the county would have formal responsibility for the trail.  A formal agreement was signed in early 2018, and FOCCB is in full support of this arrangement; responsibility for public safety, maintenance, and future planning belongs more appropriately with a municipal body instead of a small non-profit group.  The county now provides routine maintenance such as trash pickup and downed tree removal, and also repaired and reengineered a small section of the trail experiencing erosion soon after completion. Delaware County has made the Chester Creek an important part of its strategic plan for improving recreational and non-motorized transit options throughout the region.
FOCCB continues to provide supporting trailside amenities and has helped mobilize hundreds of volunteer hours since completion of Phase I.  Trail amenities constructed include benches, a bike repair station, trash receptacles, dog waste bag stations, a memorial for Mike Fusco, a "little library" box, and a landscaped and donor brickway area.  In 2019, FOCCB is working with a local artists' group, the Rockdale Arts District, to create a mural on a large retaining wall along the trail.
Future Trail Work
A contract for Engineering work on Phase II was awarded to Wilson Consulting in late 2018 to extend the trail to Bridgewater Road in Aston.  Work is also underway in 2019 to extend the trail from Lenni Road to SEPTA's new Wawa Station, which is scheduled to open in late 2021. We will announce future trail developments as they can be made available.
The Chester Creek Trail is a proud member of the Circuit Coalition, a group working to connect hundreds of miles of trails around Greater Philadelphia.  The Circuit Coalition provides support to trails and trail users, and we look forward to a future day when the Chester Creek Trail actually connects directly to this network.